How Can You Build Your Practice?
What Kind of a Firm do You Want to Be?
During periods of tumultuous change, a crystal clear vision and the power of conviction are must haves. For most accounting and bookkeeping firms there has never been a period of greater change than there is right now. We're simultaneously in the midst of a generational shift plus a rethinking of how we collaborate both internally with staff and externally with clients. As you navigate this environment, we'd like to offer a few ideas to consciously build your practice to meet your personal and professional goals. Read the entire article here.
How to Gain DAYS of Extra Productivity in 2021
The tools you offer staff and clients speak volumes about your firm. Are you a traditional firm reliant on email plus a client portal that clients often balk at using? Or, are you a tech-forward firm who has given clients every possible way to communicate with you – and you now have too many places to look for documents? Either way, you are likely drowning in email and it's a productivity vampire that never lets up. Email traps vital information inside the recipient's in-box, and it makes a terrible task list.
We sat down with 3 firms who have tamed email and are now 100% on top of all their communications with clients, including sharing and e-signing sensitive documents. They have streamlined their processes, created a deeper relationship with clients, and in the words of one firm owner, has freed up "days, maybe weeks of additional time" in staff schedules. Watch the on-demand video here to learn how easily they did it.
Bring Your Client With You 
(to make your job and theirs, easier)
Just like in team sports, you can't work your magic without your clients' participation. In speaking with hundreds of accountants and bookkeepers these past few months, it turns out that client response to firm requests is often the biggest bottleneck.
Imagine sitting down at your desk every day with everything you need to do your job — including everything you requested from clients. 
This is the ideal state. You want to spend time helping clients, not hounding them. And they want to spend time running their businesses, not wrestling with uploading documents or responding to numerous email strings. This is why you need to make it EASY for clients to work in concert with you. It benefits everyone if you can securely and efficiently service your clients where they are, while also making sure they stay on deadline.
So you can hone in on areas in your firm that are causing stress, it's important to address the most common friction points. Read the entire
article here
.
The Real Cost of Email
Email is costing you more than you think. Between time spent sorting through messages, sending follow-up after follow-up to unanswered emails, dodging cyberattacks, and piecing together siloed conversations, the true cost of email affects your business and your bottom line. While this dated platform has been the reigning online conversation channel since its debut in 1972, when it comes to maintaining client relationships, productivity, and security almost 50 years later, you can't afford to stick with email. Read more here.
Liscio Customer Profile – Jemel Smith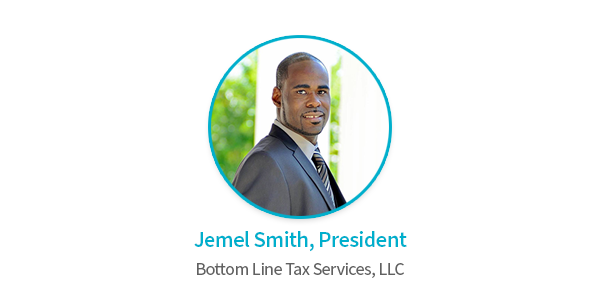 We sat down with Jemel Smith, owner and founder of Bottom Line Tax Services, LLC in Douglasville, GA to see how Liscio has helped him to bring Client Experience 2.0™ to life in his busy tax and accounting practice.
Why Liscio? Because Bottom Line Tax Services focuses on collaboration, in order to strengthen their clients' businesses with financial and technology solutions it was important to choose a tech stack that worked for his team and his clients. Prior to finding Liscio, staff were inundated by emails and things sometimes slipped through the cracks because data was siloed, staff could not see across each other's inboxes, and more and more technology solutions were added in order to try and patch everything together. The patchwork of solutions was draining productivity for the staff and providing a sub-optimal experience for clients.
The Outcome? Jemel dropped SmartVault entirely, and Liscio helped the team have their best tax season yet. Clients LOVE using it as well! Read the entire story here.
Can't get enough of Case Studies?
We've put together some compelling case studies from diverse firms across the country. In each one, the business case for change was clear – the firm owners wanted to get out of email jail and free up staff to provide value to clients, instead of spending time hunting in various places for documents that clients may or may not have sent. Check out their stories here.
Learning More about Enabling 
Tech behind CX 2.0™
Liscio is now fully integrated with Microsoft Outlook! Most Liscio firms report a dramatic decrease of email from clients. But when you DO get an email for a client, you can now send it straight through to Liscio and task it, track it, and share with team members for full visibility! Attachments are included, so you never lose a document again. The use cases for this feature are endless, but the most common will be if an email comes from an outside entity (insurance, invoice, bill, tax notice, etc), and you want to tie it to the client in a fully organized, trackable and shareable way.
To see this groundbreaking new feature in action, please watch our short video:
Share a report or document from any system your firm uses, securely with a client, in just a couple of clicks. No more saving your tax or accounting report to your hard drive, then uploading to your secure portal, then composing an email to your client with the link to your portal in it, and crossing your fingers they can actually log in and get it downloaded without calling you! Liscio Dispatch was released in October and it's getting rave reviews. Additionally, Liscio is now integrated with Microsoft OneDrive, saving you even more time when sending files to clients securely. To learn more, check out this article.
To see Liscio Dispatch in action, please watch our short walkthrough videos:
Liscio Dispatch
(4 min)
Securely Share Files to Liscio Using ANY System and Share with Clients Instantly
Upcoming Events
We are excited to be the featured guests on the exciting QB Appy Hour show in December! Heather Satterley and Liz Scott will be interviewing Chris Farrell, CPA and Alison Ball about how to offer stellar client experience, and the benefits that firms accrue (no pun intended!) as a result of becoming a CX2.0 firm. Register here

As we approach 2021, many firm leaders are planning for a better road ahead. Come and learn the key questions and considerations involved in visioning then creating the firm you want to have. In this one-hour free webinar, you'll hear from Chris Farrell and Joe Montgomery, both CPAs and visionaries, as they discuss how mindset plus technology can lead not only to differentiation in 2021, but a superior experience for staff and clients as well. Register here

***************************
Well, that's it for now! We hope you enjoyed Volume 3 of Letters from Liscio, and we look forward to helping you roll out Client Experience 2.0™ in your firm. 
What could you do with days or even weeks of extra time in 2021? To see how CX2.0™ can differentiate your firm, increase client engagement and loyalty, and make life easier for staff, please book a free demo, or call us today!