How does your Client Experience stack up?
A Newsletter FULL of CX 2.0™ Tips
Welcome to Liscio Letters!
As we are writing this, many of you are heads-down with yet another tax deadline and you are working hard to delight your clients and provide an amazing client experience. Hang in there! The light at the end of the tunnel is in sight, and soon work will return to normal again. One firm we spoke to called it "the pig in the python" and that description seemed so right – although we did feel bad for the fictitious pig in that colorful analogy! 
Because you are busy, we've assembled a collection of articles and events that we hope you'll find interesting and helpful. Our goal is to curate information designed to help you adopt a Client Experience 2.0™ approach and truly differentiate your firm from others.
Introducing Client Experience 2.0™, 
and how it Differentiates You
In our discussions with firm owners across the country, a few things stand out. Each strives to provide the highest quality service to their clients and most want to continue to grow their practices in terms of attracting and keeping high-value, high-quality clients. But then variations start to appear – some firms have great systems in place to delight clients, while others feel that they are working in a bit of a messy kitchen, with single-point solutions cobbled together and none of them easy or delightful for clients to use. (Think client portal here… how many of your clients truly love your portal?)
So what do the firms who are providing an awesome client experience have in common? Read the following articles to discover valuable insights you can immediately put to use in your own firm.
Rising Above the Rest – Why CX 2.0™ is the Key 
When you think about companies that you love to work with, chances are they are employing Client Experience 2.0™ (CX 2.0) techniques. Chris Farrell clarifies what CX 2.0™ is, and how CX 2.0™ firms have a competitive advantage over firms who are not using client-facing systems that were designed with clients in mind. Read the full article here.
4 1/2 Tips to get More Timely Documents from Clients
One of the biggest challenges practitioners have with providing top notch advisory services is that clients are often late delivering key documents. Alison Ball shares tried and true tips on Intuit's Firm of the Future Blog, to help you increase the chances your clients will comply quickly with necessary document and signature requests.

Breakthrough Online Client Experience for Small Firms
For accounting firms to keep up, it's no longer just about delivering quality service. It's now about delivering a complete client experience. The good news is that even small firms can provide a great client experience by adopting the right technology. Watch this on-demand webinar to learn key tips.

Liscio Customer Profile – Heather Malka
We interviewed Heather Malka, of Pure Office Solutions, LLC, in Oregon City, Oregon, about her approach to client experience. Here are a few things we learned. 
Heather relies on Liscio and Practice Ignition to drive her awesome Client Experience 2.0™. She includes Liscio in her proposals to new clients and ensures they are comfortable using the client-facing app from the get-go. 
All her client communication comes in via Liscio so Heather and her staff are able to prioritize and create recurring tasks for their workflow and connect them to specific customers. Her favorite feature? She loves being able to request information from clients directly through Liscio because previously they were creating a template in Word and pasting it in email which was clunky and inefficient.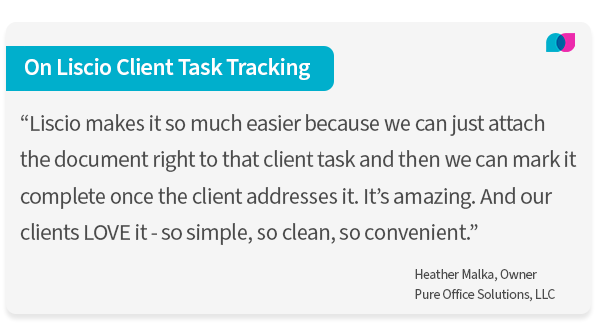 When Heather is not working hard to delight her clients, she is working on honing her crochet and self-taught sewing skills. She has also recently taken up crafting as well as gardening! She's stimulating the artistic side of her brain to find balance. She loves doing her clients' books and helping them be more successful, but the creative side of Heather's brain needed an outlet so she works on balance there as well. (Editor's note – we do love things that balance!)
Security and Firm Storage
When is the right time to review your firm's security practices?
Chances are you're leaning on technology more than ever. For that reason, safeguarding your clients' data and keeping up with technology and security best practices is likely top of mind. But how do you know if you're keeping up? You are not alone in wondering that – especially if you are a small firm or sole practitioner.
We recommend that you speak to a qualified tech IT firm that specializes in accounting practices of all sizes. They draw upon a wealth of relevant experience that can help you quickly identify and close gaps. If you don't already have an IT partner, check out
Tech Guru
. They offer a free workshop to all Liscio clients. 
Important Note – Liscio has no financial interest in, and receives no compensation from Tech Guru.
Will Microsoft Storage Solutions Reign Supreme? (We make a case) 
Thousands of accounting firms are waiting patiently for their software providers to bring their file storage into the new millennium. Their patience may finally be rewarded by an unexpected player — Microsoft. Chris Farrell makes a case for taking a good look at Microsoft as a best-in-class solution for accountants and bookkeepers, with Liscio on your side to help you transition your file storage easily and painlessly. Read the full article here.
Is it time to refresh your permanent file storage?
If your day-to-day file storage experience looks, feels and functions as if it were coded in the '80s, it's time for an upgrade. Firms of every size are moving to file-storage leaders such as Microsoft and Box. If you're considering making the leap but feel trapped by your current vendor, talk to us. We can make your file migration a breeze.
Hear what Derek Fujikawa has to say about Liscio's file migration service: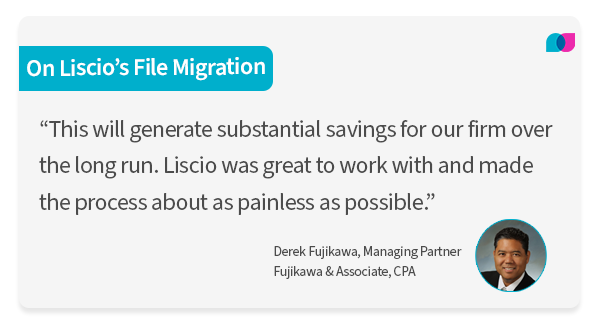 If you would like to learn more about Liscio's file migration service, please give us a call – Liscio offers this service to all firms, regardless of whether they are using Liscio or not.
Learning More about 
Enabling Tech behind CX 2.0™
If you are curious about what Client Experience 2.0™ looks like from a technology standpoint (for your clients and for your firm) we encourage you to check out the following webinars.
Liscio Deep Dive
In this on-demand webinar, Emily and Lindsay do a deep dive into four customer-selected topics: Client-Side Features, Managing Files, Tasks, and Inbox, eDocs, and the Liscio Desktop App.
Liscio New Feature Walkthrough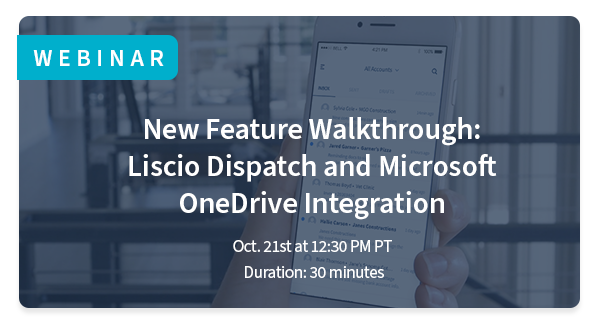 If you send files to clients, this webinar is for you. 
If you've been curious about how Liscio can help your firm streamline operations internally, and free up valuable staff time to do more advisory work, we encourage you to join us as we walk through Liscio's two newest features: Liscio Dispatch and Microsoft OneDrive Integration. 
Imagine saving 10 clicks on every file you send! Announcing Liscio Dispatch. Liscio Dispatch saves firms hours per month by combining all of the steps into a single, easy-to-use interface that works with every software package you use. Anything your firm can print, can be securely and easily sent into Liscio, to be shared with your client, or staff.
Additionally, Office365 users will love our new Microsoft OneDrive integration. Attach OneDrive files directly to Messages, Tasks, and eDocs and browse and search OneDrive directly from Liscio's new cloud storage panel. 
Watch the webinar on-demand here. 
Well that's it for now!
If this news was helpful and interesting to you, please feel free to share this with your team! Friends and teammates can sign up for their own copy by subscribing to our blog.