Could 2021 be the year that clients send docs on time?
We speak with thousands of accountants and bookkeepers every year, and the #1 complaint is that clients do not respond quickly to your requests. Clients Experience 2.0™ firms have an edge – they ask for documents in a way that clients not only pay attention but respond quickly as well – and the results are astonishing. 
Their clients respond 19 times faster than email, and clients' median response time to secure text messages sent through Liscio is 6 minutes or less.
Read

this article

to see how three firms were able to get clients to respond quickly using Liscio and keep staff humming along in 2020 despite the additional workload.
Tired of providing tech support for 
your portal? Read this!
Your portal is only as good as the number of clients who use it. And since it takes at least 8 steps to save a document to your hard drive, load it to your portal, compose the email to the client, send it, and hope that they download it, it's a huge time waster as well. If an e-signature is involved… well that adds even more steps. But it really blows if on top of all of this, your client ignores the email and then you have to chase them.
Liscio has a way for you to share a document securely on the fly from ANY accounting or tax system you use that can print to PDF. It takes just a few clicks and is 100% secure. You'll save a ton of time, and the best part is that clients pay attention when it arrives securely via push notification on their phone!
It's called

Liscio Dispatch

, and it is changing the lives of accountants and bookkeepers in ways that are so profound they will never go back to using their old clunky portal + email solution for secure document transfer ever again.
To see this sexy tool in action, watch this quick video and then let us know if you would like to chat about how Liscio can help you dump your clunky portal and move to technology that delights clients and staff.
Avoiding the False Dilemma – 
 Sometimes AND is Right
When you explore new technology, it's easy to fall into the trap of thinking you can't make the change, because "some" of your clients won't use it. This is a trap that ends up holding everyone back. Chris Farrell explores the dilemma in this thought-provoking article. The upshot is, you CAN have your cake and eat it too! Just swap AND into the discussion. Read the entire article here.
Liscio Customer Profile – Janelle Pedulla, CPA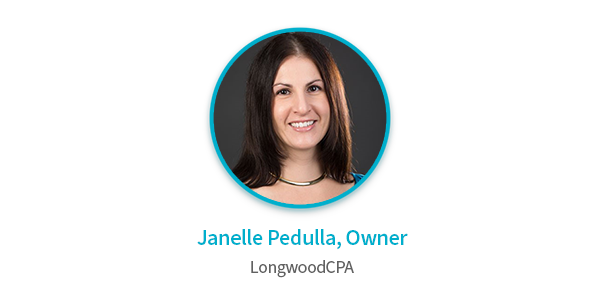 2020 was a busy and successful year for Janelle Pedulla, CPA and her staff at LongwoodCPA. They added an astonishing additional 150 tax returns, on top of handling all the PPP and EIDL paperwork for their clients. 
And, they did this with no increase in staff, and NO OVERTIME!
We asked her how she did it. In a nutshell, her firm moved off Net Client and onto Liscio in 2019. They now use Liscio for all client-facing communications and document exchange tasks. Liscio gave them such a huge boost in efficiency that they were able to move faster, while delighting clients and keeping staff happy as well. Read her entire story

here

.
Upcoming Events & Recorded 
Webinars from December:
Upcoming Events:
Lindsay & Emily Show: Liscio Roadmap 2021
January 14th at 12:00 PM PST
Come and kick off 2021 with a special edition of the Lindsay and Emily Show! We'll cover some of our recently released features that are saving time and delighting users. We also have a surprise guest who will give you a sneak peek into features that are currently in development. Don't miss it! 
Register here
Womxn in Leadership: Balancing Competing Priorities:
February 9th at 10:00 AM PST
Womxn in leadership have a particular set of challenges. You have to manage your work, your family, yourself, and often the decisions you make during the day seem to compete with each other. This webinar will focus on the mindset you need to succeed as the leader of your firm. You'll learn when to say no, when to delegate, and how to balance competing priorities. As a seasoned and successful BIPOC female leader, Damari Perez will share her experiences and advice and give you actionable tips to help make 2021 your best yet. You'll also learn about key tools that you can use to help free up time. Register here
Recorded Webinars:
QB Appy Hour – December 8th, 2020 
Heather Satterley and Liz Scott interviewed Chris Farrell, CPA and Alison Ball about how to offer stellar client experience, and the benefits that firms accrue (no pun intended!) as a result of becoming a CX2.0 firm. 
View the Recording Here
Building the Firm you Want in 2021 – How Mindset and Technology leads to differentiation – December 15th, 2020 
Chris Farrell, CPA and Joe Montgomery, CPA discuss the key questions and considerations involved in visioning then creating the firm you want to have. Mindset plus technology can lead not only to differentiation in 2021, but a superior experience for staff and clients as well. 
View the Recording Here
Make a Plan to Rise above the Rest, in 2021
At Liscio, we've dubbed 2021 the Year of the Client™ and we are excited to help firms like yours to seriously elevate the experience you offer your clients. It starts with adopting a mindset that the tools, technology and processes in place in your firm all start with what is GREAT for the client. Of course to be feasible everything has to be great for the firm as well, and that's the beauty of Client Experience 2.0™ – once you give clients a truly awesome experience, they respond quicker to your requests, you can work faster, and then offer them more services to delight them! It's truly a circle of goodness. Read the entire article here.
***************************
Well, that's it for now! We hope you enjoyed Volume 4 of Letters from Liscio, and we look forward to helping you roll out Client Experience 2.0™ in your firm. What could you do with days or even weeks of extra time in 2021? And how would your life change if you no longer had to chase clients for answers or documents? 
To see how CX2.0™ can differentiate your firm, dramatically improve client response time and engagement, all while making life easier for staff, 
please
book a free demo
, or
call us
today!
---
Liscio gives back!  For every demo we conduct, we donate 10 nourishing meals to children in need.  For every new firm that signs up with Liscio, we fund 30 days of education for children in the world.  Learn more here.