Smoothing Out the Peaks and 
With January payroll tax forms and 1099's now complete, many firm owners turn their attention to capacity and resource planning for "Busy Season". It's a tricky calculation that involves a ton of inputs. Probably you rely on what happened last year, look at the current year expected volume, and try to plot it all out so your resources match the demands. And you get through it like you always do – with good intent, grit, and unfortunately a lot of late nights. 
What if this year it could be different, with fewer late nights and a more even workload for staff? 
To make this happen each staff member needs to be fully productive at work, beginning early in season, so that overtime is not needed. To make that happen, clients need to send their documents on a timely basis with no hounding or chasing. The good news is this can be accomplished if you take action now, before the (really) busy season begins. Learn more

here

.
Sending Documents to Clients, Securely, 
"on the fly"
As you head into the busy season, every click counts. In the first article we talked about making it easy for clients to send documents to you so you can get their tax returns and financials done quickly. But what about you sending documents to them? How many clicks does your current process take? If you are like most firms, it takes 8 or more steps and several minutes, including leaving your accounting or tax package and downloading, then uploading to the portal, composing the email and sending to the client, etc etc.
Liscio allows you to share a document securely on the fly from ANY accounting or tax system you use (anything you can print to PDF). It takes just a couple of clicks and is faster and more secure than email. You'll save time, and the best part is that clients pay attention when it arrives securely via push notification on their phone. Clients also love securely filling out your forms and e-signing on their phone too!
And if you are wondering what documents you might want to send quickly to clients without leaving your tax (or accounting) package – think Form 8879s, Tax Organizers, Tax Questionnaires, P&L statements, etc… we could go on and on. 
To see this time-saving tool in action, watch this quick video. Then call us. We would love to help you make this fast, secure method of sending documents to clients a reality in your firm.
Tired of Chasing Clients for Documents?
(read this!)
If you make it EASY for clients to send documents to you, using just their mobile phone, they will respond quickly and on your first request. If you ask them to log into a portal instead, you'll get spotty response times and have to spend time chasing clients for documents you really need. Take our short quiz to measure how easy it is for clients to work with your firm.
Why Security Should be Your Top Focus in 2021
Election security and Russians hacking the US government nabbed the headlines in 2020, but 86% of this year's security breaches were financially motivated. And the scammers are so convincing! The risk to you, your firm and your family is higher than ever. In fact, a whopping 28% of all breaches happened to small businesses. If you haven't already reviewed your security practices and battened down the hatches, now is the time to do so. Security is a top priority. 
There isn't a week that goes by that we don't hear about a successful business email compromise attack. In most cases, a firm's client has been compromised. In some cases, the firm itself has been compromised. And sometimes business email scams attack the home front. 
Read more

here

to see how you can stop scams and phishing attacks at work and at home.
Make your Next Event a Memorable One
If you are in charge of planning an upcoming event you know it can be challenging to search out and book great speakers. Liscio can help! We know a ton of great speakers and we have a fantastic list of topics you can choose from. To explore booking a speaker for your next event, simply fill out this form and we will be in touch.
Liscio Customer Profile – 
Lozelle Mathai, MBA, CFEI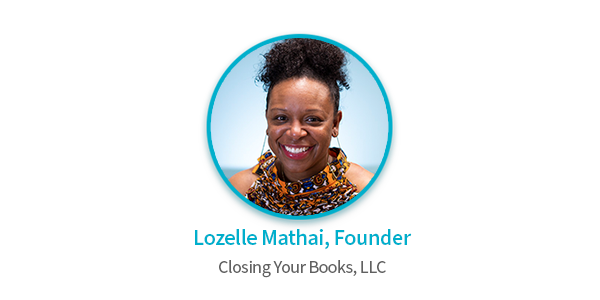 As a firm that provides top-notch outsource CFO services for their clients, Closing Your Books LLC staff found that email was hurting their ability to stay on top of key decisions for clients. Data was siloed in staff inboxes, and there was often confusion about the latest status for each client. Additionally, it was too easy for an important email to get lost in overflowing inboxes, and sometimes key personnel would be accidentally dropped from a string, leaving them out of the loop entirely. 
By making a few changes, including leaning into repeatable processes, Ms. Mathai was able to coral everything into an actionable, trackable, and organized space in Liscio so that no key decision was overlooked and everyone operates at peak efficiency and accuracy. Read her full story here.
Upcoming Events:
Stop Hounding Your Clients! Why Client Experience Matters
You need a lot of information from your clients in order to do the work of organizing, analyzing and interpreting their financial and operational results, but what happens if you can't get the information you need? You might feel you become one of those annoying people who keep hounding clients for a bunch of information they don't understand and don't know where to find. There must be a better way! 
There IS a better way! In this webinar attendees will learn how the right tools and a different way of working can help you shift the relationship as you put your client at the center of your firm. 
Join Geni Whitehouse for this entertaining and eye-opening webinar. 
Here is what you will learn:
Understand your role in receiving slow responses from clients

Recognize the impact of information exchanges on the overall client experience

Discover tried and true methods to optimize the client experience for the benefit of both client and accountant
How to Make 2021 the Year You Receive Client Documents on Time!
February 24th at 1:00 PM PST
If you are like most firms, staff experience frequent breaks in workflow due to not having all the documents you need from clients. We've created this webinar to help you optimize your process so that clients respond quickly.. 
Join Lynda Artesani for a practical webinar designed to help you:
Understand why clients don't always respond quickly to your requests

Uncover hotspots in your current method(s) of requesting documents from clients 

Learn actionable tips to help clients send you what you need, on the first request
The Role That Technology Plays in Driving Growth in your Firm 
March 24th at 12:00 PM PST 
Most firms added technology as the need arose and now face a patchwork of solutions that create a lot of additional work overall. Firms that are able to optimize their technology stack so they work well for staff, for clients, and for security purposes understand the power of choosing the right solutions because they are able to get their work done, they have happy clients, and security is not a daily challenge. 
During this practical and thought-proving session, Chris Farrell, CPA and Daniel Moshe of TechGuru, LLC will explore: 
Tried and true methods to pick valuable tools that set your firm up for success 

The role that technology plays in client response times and staff efficiency 

The simple formula to help your firm navigate to a brighter future
Year of the Client Webinar Series Page: 
We have assembled a world-class list of industry experts to present topics that are designed to help your take make 2021 your best year yet. Bookmark our speaker page, and check back often – we are adding classes each month and you don't want to miss out! 
We are now 21 years into the 21st Century! 
What Does This Mean for Your Firm?
Our editorial staff were remarking that we are now 21 years into the 21st Century. If you love vintage cartoons you'll notice a lot of things in your home and life that were featured in The Jetsons. You now have video chats with people across the world without thinking about it, your Roomba might be the main way you vacuum your house, and your home gym might even feature a Peloton or a Mirror. We don't have flying cars yet, but we do have electric cars, and some people have even started using self-driving cars. But one thing we all agree on – banking is now done on a delightful app held in the palm of your hand. No more breaking your day up to "get to the bank" during "business hours". Banking apps have set a new standard for convenience and seamless integration into their client's lives.
At Liscio, we've dubbed 2021 the Year of the Client and we are looking forward to helping you give your clients that similar level of amazing experience that banks give them via their mobile app. The experience you offer your clients matters! Your firm can become a seamless and welcome part of their day, using the same secure mobile technology that banks use to delight their customers. 
Please call us if you would like to elevate the experience you offer your clients to the level they expect in 2021. We are, after all, 21 years into the 21st Century!

***************************
Well, that's it for now! We hope you enjoyed Volume 5 of Letters from Liscio, and we look forward to helping you roll out Client Experience 2.0™ in your firm. 
What could you do with days or even weeks of extra time in 2021? And how would your life change if you no longer had to chase clients for answers or documents? To see first-hand how Client Experience 2.0™ can help differentiate your firm, dramatically improve client response time and engagement, all while making life easier for staff, please book a free demo, or call us today!
---
Liscio gives back!  For every demo we conduct, we donate 10 nourishing meals to children in need.  For every new firm that signs up with Liscio, we fund 30 days of education for children in the world.  Learn more here.