Setting Yourself up for Success in 2021
Amping up your Client Experience & Loyalty
Setting yourself up for greater success in 2021
November is a wonderful time to take a deep breath and focus on the big picture in your practice. Get organized. Prep your 2021 engagement letters. And perhaps most importantly, look back at the year that is nearly over to identify what worked well, and what needs improvement, so you can set yourself up for greater success in 2021. 
We've put together a list of 5 key questions to ask to help you hone in on areas that caused friction or stress this year. Use it to facilitate discussions with your staff, so you can evaluate what worked well and explore options for improvement in the new year.
Liscio Customer Profile – Michelle Vilms
We sat down with Michelle Vilms, of Vilms Consulting in Boston, MA, to see how Liscio has helped her to bring Client Experience 2.0™ to life in her practice.
Why Liscio? As a remote firm, Michelle needed a central place for her team to access key client information without having to hunt around or call each other each time a client file was worked on. In addition, they needed a way to see all communications with clients without having to be CC'd on crazy numbers of emails. Liscio was the perfect solution.
How did the roll-out go? It didn't take long to get going at all! Michelle told us the setup was very straightforward and her clients were very accepting of the new tool. Her entire team was excited about Liscio because they could see the value in getting all the information securely in one place and streamlining their client process. 
Now that her firm has been using Liscio consistently, Michelle reports many benefits!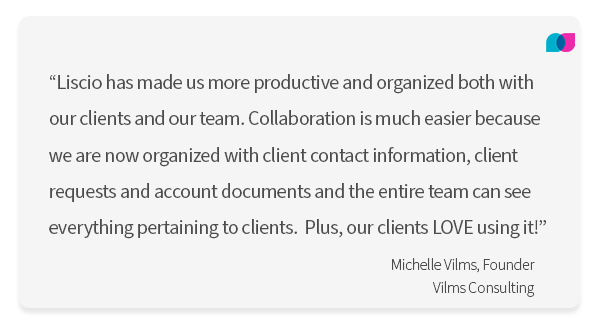 Were there any surprises? Michelle reports a wonderful thing that she didn't initially expect would happen as a result of using Liscio. Her team is now using it to handle short-term consulting as well as longer term client engagements!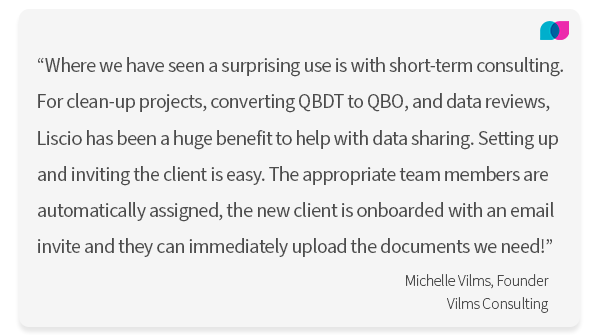 When Michelle is not busy delighting her clients and leading her team to new heights in Client Experience, she is focused on raising good citizens of the world, helping her two teenagers, Jonathan (18) and Allison (15) to navigate high school through these challenging times. In her spare time she loves to use her Peloton. She says that while the exercise is great, the discipline and accountability is teaching her valuable lessons about practice versus perfection. (Editor's note: It's a journey, right?)

Curated Articles For You
Dealing with email overload in your firm:
In speaking with hundreds of busy accountants this past month a key theme emerged – the time spent managing email slowed everyone down. Due to the sheer volume of email received daily, accountants told us it was difficult to see which ones were truly important, and clients seemed to be forever missing or ignoring email requests for vital information. In addition, transparency across team members was not easy to accomplish from email inboxes because it resulted in… you guessed it… more email from endless cc'ing and bcc'ing. 
Just because you may be using email extensively now with clients, it doesn't have to be that way! Read what Chris Farrell, CPA has to say about why Client Experience 2.0™ firms actually send less email, and how good things happen when you move client communications out of email.
Evaluating your Firm's Client Experience: 
Most firms describe themselves as being "client-centric" because their staff really care about their clients' success, and that is certainly an essential component. However, it turns out that being truly client-centric requires having caring staff PLUS a few other things as well. 
Check out this article to help you understand your firm's client experience, including whether you are offering Client Experience 2.0™ in your firm, or something less.
And lastly – if you've been wondering what moving to Client Experience 2.0™ might mean for your firm, you can relax – as this article makes it clear, it's a lot easier than you think! 
What accounting firms can learn from The Home Depot
We all know The Home Depot and their gigantic, everything-under-one-roof, superstores. But did you know that they are also a shining example of Client Experience 2.0™? 
Instead of counting on their customers to only visit their stores in person, they provide a next-generation online experience that includes online shopping, order tracking, and even text messaging. Clients want to text — but texting about a bucket of nails is absolutely next level! As a result of their commitment to CX2.0™, their online sales now exceed $2 billion per year. 
So if you're looking for client experience inspiration, you just might find it in your next home improvement purchase. And remember, your clients are experiencing this now, with companies like The Home Depot. Imagine how delighted they would be if you offered a similar amazing experience for them when dealing with your firm?
Call us

to get started – you'll be pleasantly surprised at how affordable and easy it is!
Learning More about Enabling Tech 
behind CX2.0™
Getting files to clients, securely, just got a LOT easier! Imagine being able to share a report or document from any system your firm uses, securely with a client, in just a couple of clicks. No more saving the report to your hard drive, then uploading to your secure portal, then composing an email to your client with the link to your portal in it, and crossing your fingers they can actually log in and get it downloaded without calling you! Liscio Dispatch was released in October and it's getting rave reviews. Additionally, Liscio is now integrated with Microsoft OneDrive, saving you even more time when sending files to clients securely. To learn more, check out this article.
To see Liscio Dispatch in action, please watch our short walkthrough videos:
Upcoming Events
Live Case Study

: Client Experience 2.0™ in Action – Nov 19, 2020 at Noon EST
Come and hear how three successful firms have tamed email, moved client communications into a streamlined trackable space, and helped them provide Client Experience 2.0™ during their busiest season ever. 
Register here
Scaling New Heights, Orlando, FL, Nov 8 – 11, 2020
We will be attending Scaling New Heights in person this year and are very excited to see our customers and future customers. If you are planning on attending, please be sure to come to our booth to say hello! Come early – we have a special gift for you (while supplies last).
We are excited to be the featured guests on the exciting QB Appy Hour show in December! Heather Satterley and Liz Scott will be interviewing Chris Farrell, CPA and Alison Ball about how to offer stellar client experience. Register here
Well, that's it for now! We hope you enjoyed Volume 2 of Letters from Liscio, and we look forward to helping you roll out Client Experience 2.0™ in your firm.
To see how CX2.0™ can differentiate your firm, increase client engagement and loyalty, AND delight staff, please book a free demo, or call us today!